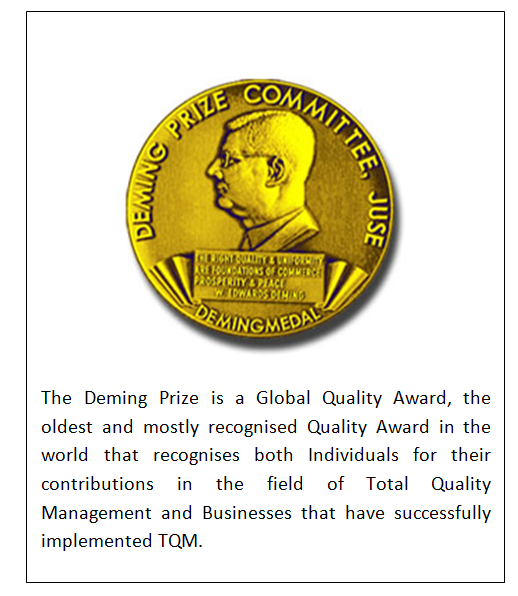 A-section-of-the-audience
Shri-P.-Kaniappan,-Managing-Director,-Wabco-India-Limited
Felicitation Function For Deming Prize Winner
NIQR takes pleasure in felicitating eminent personalities and organisations which have contributed much for the promotion of quality and TQM. Over the years, NIQR has felicitated both Individuals and Organisations for winning the coveted Deming Prize.
On 6th May 2017, it organised a Felicitation Function at Hotel The Westin Chennai for Ashok Leyland Limited Pantnagar Plant for having won the Deming Prize for the year 2016.
Mr. P. K. Aggarwal, National President, NIQR welcomed the august gathering which included Industry Heads and NIQR Members and Special Invitees and congradulated the Pant Nagar plant of Ashok Leyland for having become the first truck and bus plant in the world and also the only Commercial Vehicles manufacturer outside of Japan to win the Deming Prize.
He made a mention of the fact that out of 56 organizations that have won the Deming Prize from 2000 to 2016, India is on top of the list with 22, followed by Japan with 16 and Thailand with 12.
Praising Ashok Leyland for its commitment to Quality, he referred to the message by Mr. Vinod Dasari, MD of Ashok Leyland Limited while addressing the media after receiving the Deming prize "Consistent quality, technology, innovation and robust processes are the pillars which have helped us garner international recognition, customer satisfaction, and help us deliver on our brand promise of 'Aap ki Jeet, Hamari Jeet'.
Shri P. Kaniappan, Managing Director, Wabco India Limited, Chennai was the Chief Guest for the function. In his address to the audience, he mentioned about the commitment of AL Management in drawing up a long term roadmap and meticulously following it in winning the Deming Prize for its Pantnagar Plant. He was confident that other Plants of AL will soon win the Award.
He then felicitated Ashok Leland Limited represented by Mr. R. Sivanesan, Sr. Vice President, Quality, Sourcing & Supply Chain, Mr. P. Harihar, Sr. Vice President, Manufacturing & Project Planning and Mr. Alok Gupta, Plant Head – Pantnagar with mementos.
In the acceptance speech, Mr. Alok Gupta thanked NIQR for the felicitation function arranged in a grand manner. He then made a presentation about the roadmap emphasizing on the development of Pantnagar and its people as the starting point. He made a mention about the proud moments which included transforming people who have not even seen a train till entering AL becoming well versed in English and programming and operating CNC machines. He concluded that bottom up approach in policy deployment as the focal point of Pantnagar winning the Deming Prize.
Mr. K. Sridharan Balaji, National Secretary, NIQR proposed the vote of thanks.