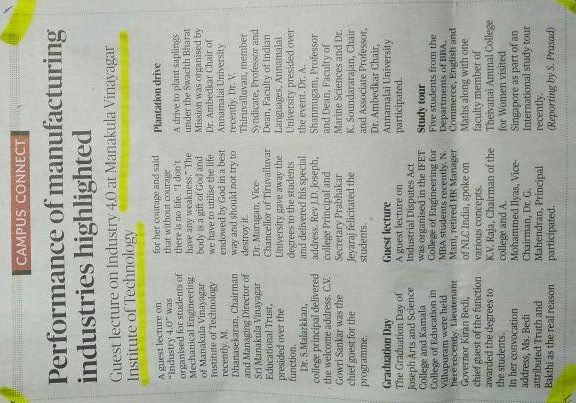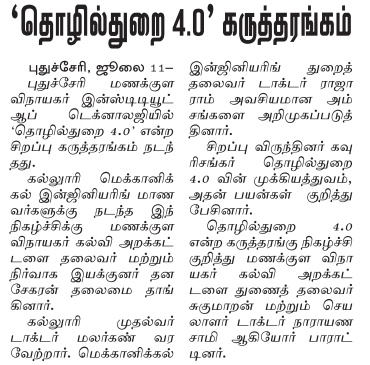 A-section-of-the-audience
Audience-giving-standing-ovation
Press coverage in THE HINDU
Press coverage in Thinamalar
INDUSTRY – 4.0 Awareness Program: No. 17
The 17th Program in the series was conducted in Manakula Vinayagar Institute of Technology, Pondicherry on 4th July 2017. There were 320+ students and staff of Mechanical Engineering.
Dr. Radjaram, HOD Mech Engg. welcomed the gathering and complimented NIQR for its mission of covering 20000 people about Industry 4.0.
The session proved to be the best interactive of all sessions so far and students showed their keenness in learning new things. The best part of the students' interaction was debate like session about job loss due to industry 4.0 and whether India needs it; the students expressed their need to skill themselves to embrace Industry 4.0 as they understood that there will be no job loss as such but creation of jobs of different skills like computerisation in Banking sector some decades back.
Dr. S. Malarkannan, Principal of the college advised the students to skill themselves in all the fields the faculty had mentioned in his lecture to embrace Industry 4.0.
The Pondy editions of THE HINDU and Dhinamalar covered the event.