Let's Rejuvenate our Business Thinking
National Institution for Quality and Reliability, Chennai Branch organised a seminar on "Let's Rejuvenate our Business Thinking" on 8th October, 2022 at Hotel Radha Regent, Chennai for senior management and CEOs of MSMEs.
It was grand success with twenty-eight senior management officials attending the program even though it was a paid one.
Mr. K. Manikandan, TQM Expert was the Speaker and Er. N. Elangovan, Regional Joint Director, Industries & Commerce Department, Govt. of Tamil Nadu was the Chief Guest.
Ln. Dr. VSV Chezhiyan, Secretary, NIQR Chennai Branch in his welcome address spoke about the need for the seminar in this time of hardship for the MSMEs.
Mr. S. Rajasekaran, Past-President, NIQR in his Keynote address referred to the impact of Covid on the industries; he elaborated on the financial hardships faced by the MSMEs in particular.
Mr. C. V. Gowri Sankar, National Secretary, NIQR in his introduction of the speaker, Mr. Manikandan portrayed the diverse ways of his thinking in organising programs for MSMEs and briefed about the programs NIQR had organised specifically for MSMEs.
Mr. K. Manikandan gave an insight into the needs of MSMEs and how this program is designed to enable the MSMEs to come out of their mindset and think new, comparing this seminar with similar programs organised by JUSE.
Er. N. Elangovan in his address gave inputs to the participants on Government initiatives in different fields for helping MSMES; he dwelt on MSME SAMADHAAN – for tackling the menace of delayed payments to MSMEs, SINGLE WINDOW SYSTEM, SUBSIDIES SUPPORT SCHEMES, PEACE – PROMOTION OF ENERGY AUDIT AND CONSERVATION OF ENERGY (reimbursement) and stressed on the importance of UDYAM registration for MSMEs.
Mr. P. Kothandaraman, EC Member – Chennai Branch proposed the Vote of Thanks for the Inaugural Function.
Mr. Manikandan dwelt on the word 'Rejuvenation' and impressed on the audience the importance of thinking for progress; thinking differently will have its own share of risk but will lead to a path of success. He roused the participants with some typical success stories from different fields including politics, cinema, philosophy, etc.,
He stressed on the part to be played by MSMEs to enable our Nation becoming 5 trillion-dollar economy.
He explained the importance of having a Vision Statement for each organisation and through it, aligning employees towards the Business; he dwelt on the requirements of the Vision Statement like, being clear, measurable, concise, challenging, etc. which will only drive Every Employee towards that Vision.
Customer focus – irrespective of their size, position – is very much important even for MSMEs according to him; he gave some inspiring examples of capturing customer requirement and satisfying them.
He concluded with the importance of People Management and giving Pride to Employees.
The session was made interesting with his crisp and clear response to the various questions raised by participants during the session.
All the participants were presented with Participation Certificate by the dignitaries.
The vote of thanks was delivered by Dr. E. Vijayaragavan, EC Member, Chennai Branch, NIQR who coordinated all the activities of the day.
The takeaways from the workshop included
Take pride in being part of contributing approx. 30% towards India's GDP
Think innovatively to improve upon it
Vision Statement does give a clear message to all employees
Focus on the customer requirements and think differently to satisfy them
People are the most valuable resource for an organisation; give pride to them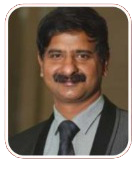 About the Speaker
Mr. Manikandan has a BE from NIT, Trichy and MBA from BITS Pilani. He worked in Ashok Leyland Limited from 1992 to 2022; joining as Graduate Engineer Trainee, he rose to the position of Vice President.
He has worked in various departments in Ashok Leyland including Plant Quality, Project Management, Corporate MR, Supplier Quality and Sourcing & Supply Chain.
As an out of box thinker, he kept himself distinguished from others in all areas wherever he was positioned.
He is a Black Belt in Lean Six Sigma and initiated the Six Sigma movement in Ashok Leyland which is yielding big results in terms of knowledge enhancement and huge amount of cost saving as well.
He played an important role in getting the prestigious Deming Award for Ashok Leyland's Pantnagar and Hosur Plants.
Mr. Manikandan is having a long association with NIQR. He is the architect of Industry 4.0 awareness programme which is shortly known as QFI by NIQR. QFI was the first awareness programme about Industry 4.0 in India by any organisation.