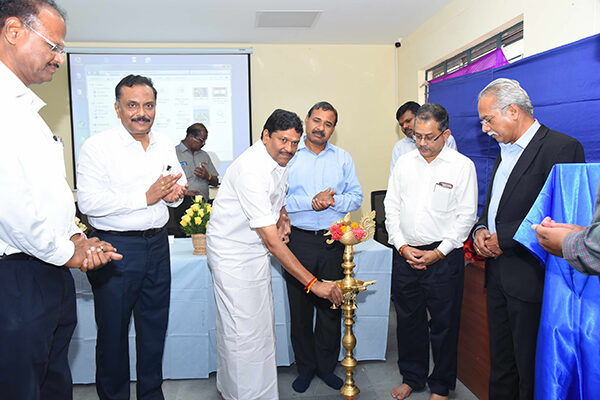 1 Mr. S. Rajasekaran, National President, NIQR during his Presidential Address
2 TN Minister Shri. M. C. Sampath, the Chief Guest lighting the Kuthuvilakku
3 TN Minister Shri. M. C. Sampath, the Chief Guest inaugurating the Training Centre
4 Mr. C. V. Gowri Sankar and Mr. S. Thyagarajan signing the MOU
5 Mr. C. V. Gowri Sankar giving the MOU to Chief Guest
6 Mr. S. Thyagarajan giving the MOU to Chief Guest
NIQR Signs MOU With SIMA
Memorandum of Understanding with SIMA
National Institution for Quality & Reliability had signed an MOU with SIPCOT Irungattukottai Manufactures Association on 29th November 2018. The MOU was signed during the inauguration of SIMA training Centre at Irungattukottai.
Tamilnadu Minister for Industries, Shri. M. C. Sampath was the Chief Guest for the inaugural function. Shri. K. Gnanadesikan, IAS, Additional Chief Secretary, TN Government,            Shri. Dharmendra Pratap Yadav, IAS, Secretary to TN Government, Shri. K. Palani, MLA, Sriperumbudur and Mr. S. Rajasekaran, National President, NIQR graced the occasion.
The Memorandum of Understanding was signed by Mr. C. V. Gowri Sankar, National Secretary, NIQR on behalf of NIQR HQ and Mr. S. Thyagarajan, Secretary, SIMA on behalf of SIMA. The MOU paves way for NIQR to conduct training programs and lectures to participants from member companies of SIMA.