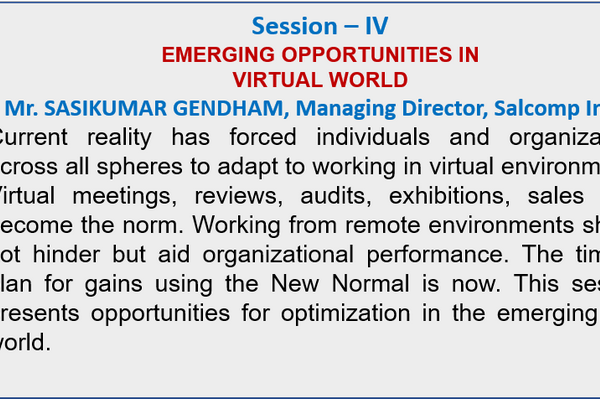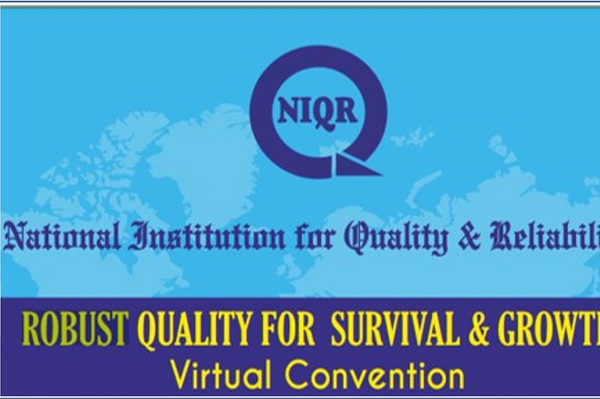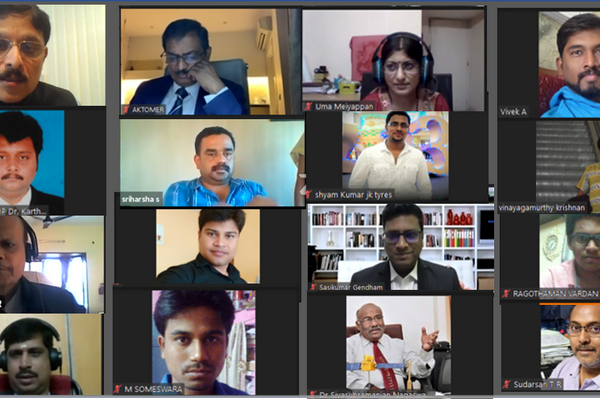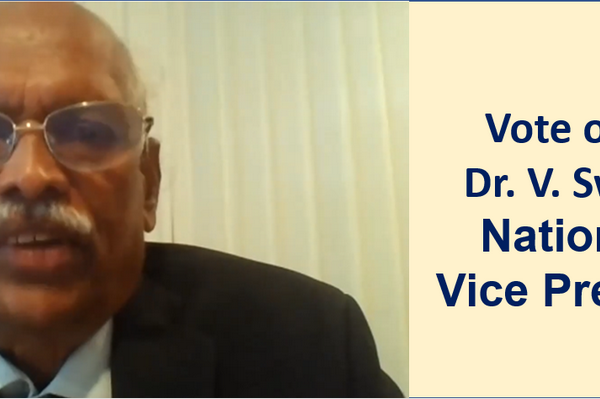 A NIQR Virtual Convention1
B NIQR Virtual Convention2
C NIQR Virtual Convention3
D NIQR Virtual Convention 4
E NIQR Virtual Convention Session 1
F NIQR Virtual Convention Session 2
G NIQR Virtual Convention Session 3
H NIQR Virtual Convention Session 4
I NIQR Virtual Convention Guest of Honour
L Mr. P.T. Bharani Perumal
NIQR Virtual Convention – "ROBUST QUALITY FOR SURVIVAL & GROWTH"
National Institution for Quality & Reliability, Chennai Branch organised a Virtual convention on "ROBUST QUALITY FOR SURVIVAL & GROWTH" on 5th September 2020 from 6.00PM to 8.45PM.
The virtual Convention was attended on the ZOOM platform by more than 450 delegates and around 150 from the Institutions in the YouTube Channel
The virtual meeting started with the display of a video about NIQR for the benefit of guests.
Mr. S. Rajasekaran, National President, NIQR welcomed the gathering; in his welcome address, he said the theme of the convention was well deliberated in the Committee meetings and arrived at this theme – "ROBUST QUALITY FOR SURVIVAL & GROWTH". He elaborated,'most of the organisations stand on the basic foundation of cost, delivery, quality and people; due to covid induced lockdown, all the four pillars are shaken up; every organisation has to focus on quality for survival and move forward'.
Mr. P.T. Bharani Perumal, Convention Secretary spoke about the convention; he pointed out that one of the policies of NIQR is to play the role of an enabler for MSMEs and Industries in general by familiarizing them to the latest trends and tools from time to time as a capability build up measure.
He added that this convention is broadly aimed for the industries in general and MSME who are really in need of a supporting hand holding / guidance to face and come out of the current industrial turbulence. We feel that this convention will be useful / interesting and will go a long way as a guiding tool to industries throwing long and powerful beam in the future tunnel leading to sustenance & growth.
Mr. P. Kothandaraman, ECM, NIQR Chennai Branch played the role of master of ceremony and introduced all the speakers.
Session – I
SUSTAINABLE GROWTH OF MSME's THROUGH CORPORATE HAND HOLDING
Mr. Satish Borwankar, Former Executive Director, Quality & COO, Tata Motors started the proceedings emphasising that the Corporates have high dependence on MSMEs, for supply of parts and assemblies. They are willing to hand- hold the MSME auto component suppliers. There is huge interdependence between the Corporates and MSMEs.
He also stressed; 'One should register in one's mind that focusing on quality does not increase the cost, in fact over a period of time quality improvements result in elimination of rectification, rework & rejections and thus reducing cost of quality. If the components supplier company is known for quality, the OEMs will be willing to give more and more business to such suppliers. The credibility of the supplier on quality, attracts more business for him from OEMs'.
He elaborated on the Six attributes that a quality assurance professional has to have.
Ø the passion for quality
Ø has to be fairly Senior person
Ø should have thorough knowledge of all the processes in the Manufacturing domain
Ø he has to be very ruthless
Ø he should maintain top class housekeeping &
Ø should be a good trainer for the employees working on shop floor
Session – II
CHALLENGES TO QUALITY IN DISRUPTIVE ERA
Mr. A. K. Tomer, Executive Advisor- New Projects & CSR (Corp. Planning), Maruti Suzuki India covered five small topics, namely
1.What is disruption
2.A challenge or an opportunity
3.Key ingredients of Quality
4.Impact of disruption on Quality &
5.Handling the pandemic situation
He categorised disruptions broadly as short term (strike, fire, etc) and long term (regulations new technologies) with apt examples. He added the covid-led disruption will be a hybrid one with impact on the long term economy.
He showed with crisp examples-adoption of technologies, bom in OTT during lockdown- how the disruptions are turning out to be new opportunities than mere challenges;
He singled out people's skill development as the important ingredients of quality, which will be crucial for the future of the organisation.
He elaborated on Maruti top Management's focus on quality and zero defect with no Compromise on Quality during Disruptions.
He dwelled on Maruti's approach to quality during pandemic-Communicate Collaborate and Transparency-he concluded that everyone should rethink, reimagine and reinvent during disruptions.
Session – III
EXPLORING OPPORTUNITIES FOR GDP GROWTH THROUGH INNOVATION
Mr. B. C. DATTA, Vice president, Hyundai Motor India termed the topic GDP as hot and burning in India today; Indian GDP had a steep fall due to the covid forced lockdown and is looking to recover during the unlock phase.
He explained the important steps taken to trigger recovery
1. Containment Measures
2. Fiscal Incentives
3. Structural Reforms
4. Monetary Measures
He pointed out the Manufacturing and Construction sectors and labour-intensive services hold the key for the Economy to recover;
He singled out the case of PPE – moving from 100% import to exports now – as the one of the best examples of Make in India. He pointed out the increased private participation in Public Companies will pave the way for faster recovery and growth. He also elaborated on localising of more parts by Auto majors against impots from mainly China helping the recovery of the economy.
He dwelled on the initiatives taken by the Government in improving the ranking on Ease of Doing Business and expects the country to be in the top 50 soon.
He elaborated on the Measures to improve GDP
•      Targeted reforms across core sectors of the economy
•      Introducing sector specific policies & incentives to boost productivity
•      Encouraging Entrepreneurship & local manufacturing
•      Reduction in commodity & Utility tariff to boost demand
•      Adopting Global Techniques to increase export opportunities
•      Investment in Human resources & ensuring flexible labour market
Session – IV
EMERGING OPPORTUNITIES IN VIRTUAL WORLD
Mr. SASIKUMAR GENDHAM, Managing Director, Salcomp India started with 'Price is Forgotten, but Quality is NOT' ­to explain about quality in digital transformation; according to him digitalisation has engrossed all roles from HR logistics; He touched on the transition from quality assurance to digital assurance as the key to Business transformation; elaborated on the virtual audis of today; ke explained about the information of anything and everything in a manufacturing process accessible anywhere anytime and the benefits of REAL-time online data.
'Equipments connected and talking to each other and making self regulation or self alignment with minimum human intervention' is the reality of the day according to him;  real time, collaborative information managed from different time zones help in quality assurance.
He lauded the technologies helping training; Augmented Reality, Virtual Reality and Mixed Reality being used extensively in training thousands of workers in a very short time.
He concluded that for MSMEs being ahead of the Curve and embracing change are very important to sustain and grow.
Mrs Uma Meyyappan, Director Commercials, Iyappan Engineering Industries Pvt Ltd did an excellent job of collating the questions from the chat box and presenting the important ones to the speakers.
Mr. R. Sethuraman, Chairman NIQR Chennai Branch introduced the Guest of Honour Dr. V. SIVAKUMAR, Managing Partner, RV Industries' Dr. Sivakumar termed the topic of the convention as carefully chosen one with each one of the four spakes emphasising on quality during their speeches.
Dr. V. Swaminathan, Senior National Vice President, NIQR proposed the Vote of Thanks.