Training Program on "Kaizen"
NIQR Chennai Branch organized a Training Program "Kaizen" (continuous improvement) on 19th March 2022 between 10:00 AM – 1:00 PM at NPC Conference Hall (National Productivity Council of India), Korattur.
There were 45 participants from industries consisting of Shop Floor Managers, Supervisors, and Process Associates. NIQR organized the training program at NPC Conference Hall to make it convenient for participants from the Industrial belt.
Dr. VSV. Ver Chezhian, Secretary, NIQR Chennai Branch delivered the welcome address.
Mr. Hariharan Ramamurthy Managing Director Srimukha Group,
All India Vice President Laghu Udyog Bharati was the Chief Guest of the Training Program.
Mr. R. Sriram, Vice-Chairman, NIQR Chennai Branch introduced the faculty Mr. S. Murugan Vice Chairman, NIQR Chennai Branch to the participants and other NIQR delicate.
Mr. S. Murugan was professionally trained in TQM & TPM by Japanese Sensei and Lean by UK Sensei from Lean Institute, UK. He has helped more than 40 companies in implementing best practices in TQM, TPM, 5S, QC Circle, Kaizen, and Lean Concepts.
The faculty described Kaizen (Continuous Improvement) and explained how it is helpful, important & useful in our working environment as well as in our daily life.
Kaizen is an approach to creating continuous improvement based on the idea that small ongoing positive changes can reap significant improvements. Typically, it is based on cooperation & commitment and stands in contrast to approaches that use radical or top-down changes to achieve the transformation.
The faculty tested the level of understanding of the participants by asking questions based on the concept of Kaizen, gifts were presented to the participants for answering correctly.
The entire session was highly interactive.
All the participants were awarded NIQR Participation Certificate.
The program was coordinated by Dr. Ver Chezhiyan, Secretary, NIQR Chennai Branch, and
 Mr. S. Murugan, Vice-Chairman, NIQR Chennai Branch.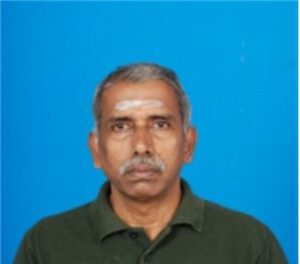 Profile of Mr. S. Murugan
Mr. S. Murugan has professional experience of more than 43 years in the following industries: Addison Tool Works, Sundaram Brake Linings (TVS Group), M/s Susira Engineering Industries Limited, Chennai, Bharat Forge Limited, Pune, and Saint Gobain Sekurit Division, Chennai.
He was honored with various awards,
A. P.J. Kalam Award by Global Economic Progress and Research Organization, New Delhi in the year 2018 for training industries in implementing best practices
Indra Gandhi Gold Medal award for the best practices implementation
He was also Joint Secretary in QCFI (Quality Circle Forum of India) Chennai Chapter.
 He was a member of the Organizing Committee for NCQC (National Conventions on Quality Concepts) 2015 & Lead Trainer for the ILO (International Labour Organization) SCORE program (Sustaining Competitive and Responsible Enterprises).
Currently, he is Vice Chairman, NIQR Chennai Branch.
Contact details:
Mr.S. Murugan, R1-106 VGN Stafford, Thirumalaivasan Nagar, Opposite to police training center, Thirumullaivoil, Chennai 62
Phone: 9790913645; Email: sm13256@gmail.com